The Center is Open to Serve Clients 
Mondays, Wednesdays and Thursdays 1:30-4:00

 2015 Civic Theatre and Fundraising Event

Buy Tickets Now by Calling the Center at 536-1084
or use our PayPal option:
 2015 Civic Theatre and Fundraising Event

It's Elementary: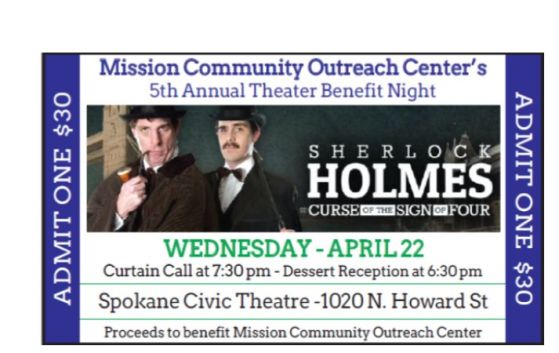 Come join us for a mystery solving evening with the MCOC family. 
There can be no question, our dear friends,
that this will be an event of           
elemental excellence.

Please join us April 22nd for a presentation of Sir Aurthur Conan Doyle's Sherlock Holmes Curse of the Sign of Four.
A dessert reception and silent auction will begin at 6:30pm and
curtain call is at 7:30pm.
Proceeds benefit Mission Community Outreach Center.
Our current underwriting sponsor is Molina Health Care.
Thank You Erica and Molina!
Thrivent has joined our underwriting team!
...and now Numerica is helping us
reach our goals also.

---
Mission Community Outreach Center first opened its doors in 1996 as an ecumenical Christian Outreach Center.  The needs of low income families in Spokane have continued to grow and today we provide clothing for more than 1,200 people per month and infant care items for more than 250 infants per month.   Our Board is made up of representatives from various local Christian churches.

Mission Community Outreach Center
has served over 200,000 people since 1996!
---
Who We Are...



Mission Community Outreach Center of Spokane, Washington is an independent, 501(c)(3) nonprofit organization supported by local churches, civic groups, businesses and community members.  Our free clothing bank has provided support to low income families and individuals in Spokane since 1996.  In addition to clothing, shoes and outerwear, we provide our clients basic household goods and hygiene items.  We also provide infant care supplies such as diapers, wipes, infant formula to clients on a monthly basis.
---
In 2015 our service area consists of these Zip Codes:
99202, 99203, 99207, 99212, 99217, 99223

---