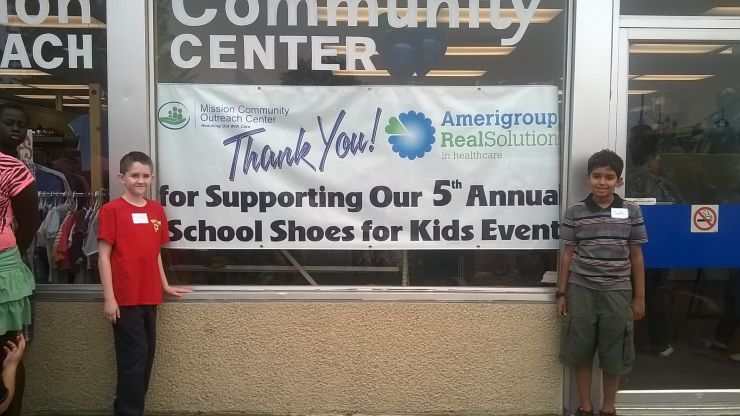 1,110 New Shoes and Socks given to area children!

A Special Shout Out to Amerigroup, Molina, Downtown Kiwanis, Thrivent and East Side Kiwanis Who Are this Year's Sponsors
And a dear thankyou to all of our individual donors and volunteers who made this event a true blessing to so many area children and their families.

In 2015 our service area consists of these Zip Codes: 99202, 99203, 99207, 99212, 99217, 99223 
Mission Community Outreach Center
has served over 245,000 people since 1996!
2015 School Shoes for Kids
Distribution August 21 and 22

                                                   Facebook:https://www.facebook.com/MCOC.Spokane
 2015 Goal:
1,000 Pairs of Shoes and Socks
to
Serve 850 Children
Final Total: 1,200 Pairs of Shoes/2,000 Pairs of Socks
Financial Gift Goal: $6,000.00/$6,500.00 Raised
Volunteers:
150 Shifts out of 150 shifts Filled

                                    Thankyou to all Who Joined in the Church Challenge!
The Pizza Party Award goes to St. Als and St. Johns who tied for the most pairs of shoes and socks collected.
Together they collected 275 pairs of shoes.
Thank you to these faithful congregations:

 Beautiful Savior Lutheran Church,
Spokane Valley United Methodist Church, St. John's Lutheran Church, Shadle Park Presbyterian,
Christ the King Anglican Church, St. Aloysius Catholic Church, First Presbyterian Church and Holy Cross Lutheran Church

Thanks to Spa Paradiso for an Excellent Effort!
More Center News and Info
Apple Picking for Charity $250.00    The link for the game is: 
http://inwcf.org/give/you-pick-for-charity-game.
Apple Picking Contest: Vote now for the Center.
Our Endowment Foundation has a fun way for us to become familiar with them and
learn more about our Endowment process.
Endowment Introduction Event: Apple Picking Contest for $250.00  
You can vote all month. Let your friends know so we can increase our voting pool!
The community foundation developed the game as a way to promote your nonprofit organization and your endowment at INWCF.  At the end of the month, our INWCF agency endowed fund will receive a contribution of either $250 (first place) or $100 (second place) from the game sponsor—Community Focus Trust - Columbia Bank, Trust & Investment Services. You can't lose! Don't forget to promote the game and let people know how they can support your fund. Simply, forward the link to your supporters, so they can help you win!



Mission Community Outreach Center first opened its doors in 1996 as an ecumenical Christian Outreach Center.  The needs of low income families in Spokane have continued to grow and today we provide clothing for more than 1,200 people per month and infant care items for more than 250 infants per month.   Our Board is made up of representatives from various local Christian churches who have extensive nonprofit and business experience.
---
Who We Are...

Mission Community Outreach Center of Spokane, Washington is an independent, 501(c)(3) nonprofit organization supported by local churches, civic groups, businesses and community members.  Our free clothing bank has provided support to low income families and individuals in Spokane since 1996.  In addition to clothing, shoes and outerwear, we provide our clients basic household goods and hygiene items.  We also provide infant care supplies such as diapers, wipes, infant formula to clients on a monthly basis.
---
In 2015 our service area consists of these Zip Codes:
99202, 99203, 99207, 99212, 99217, 99223

---